Stay snug all year round with our luxurious 100% New Zealand Alpaca duvets. 
Pacific Alpaca Fibre Benefits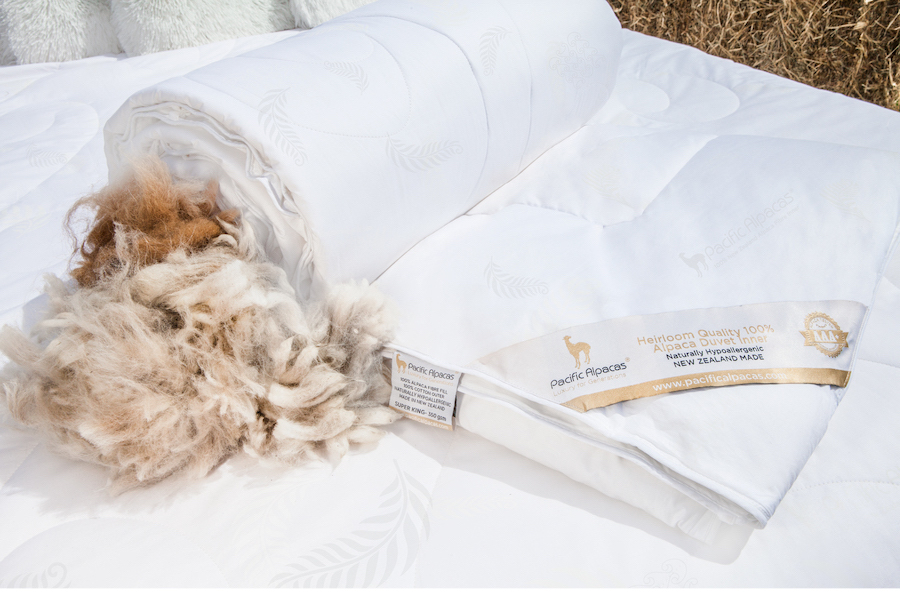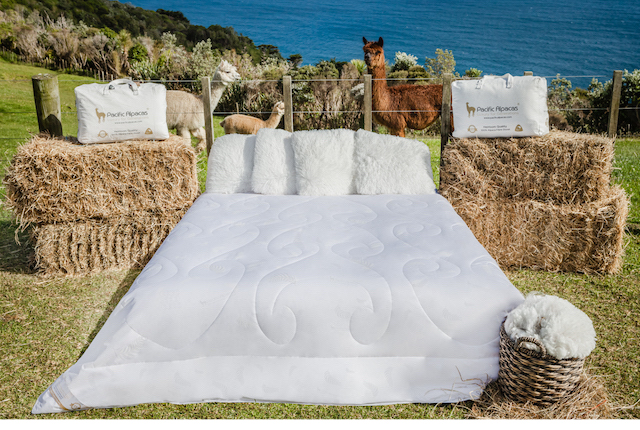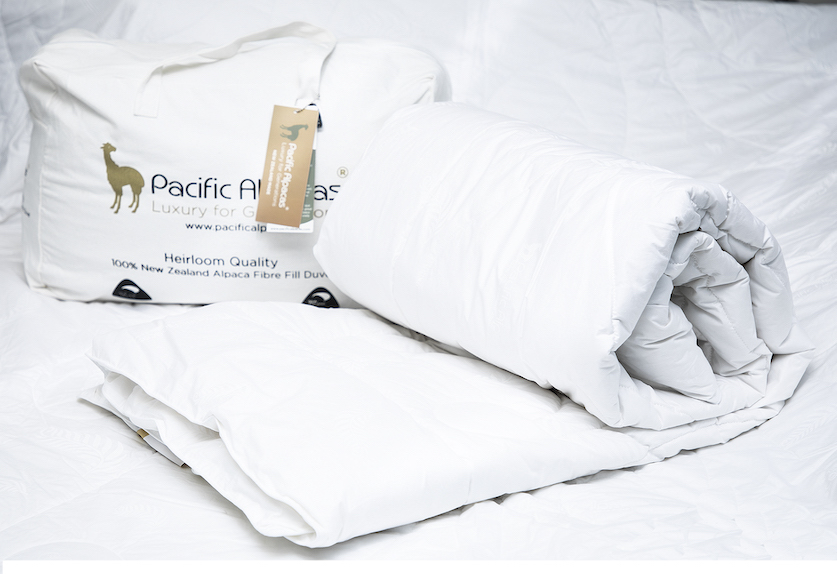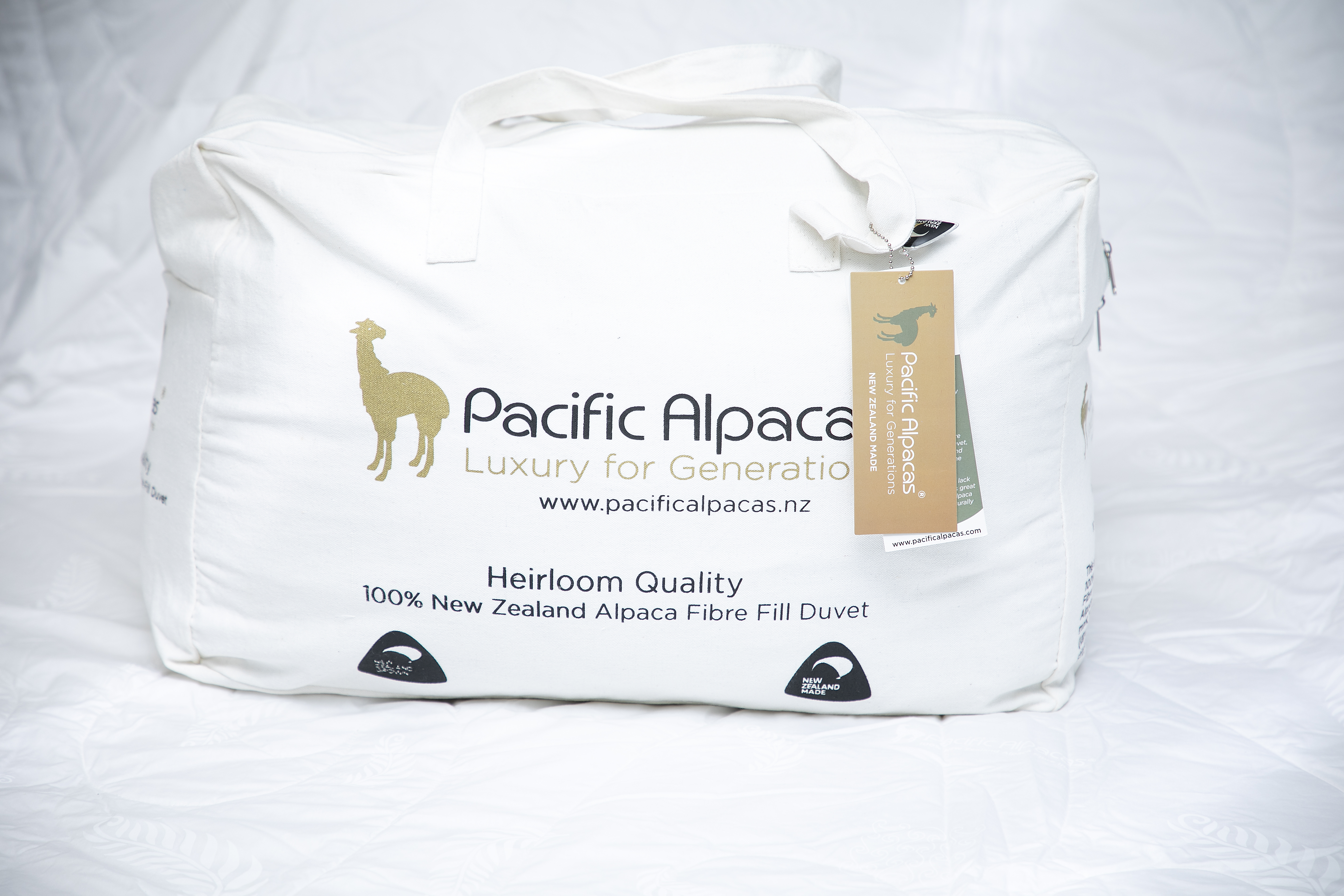 100% New Zealand Alpaca Fibre
Locally sourced from over 900 Alpaca farms and studs around the country which supports 93% of the alpaca fleece production in New Zealand.
Hypoallergenic
Sheep's wool has a naturally occurring oil called lanolin, which some unlucky people have an allergy to. Most wool products are treated chemically to remove the lanolin which in itself can cause allergic reactions. Alpacas don't produce any lanolin at all as the fibres are unique in their construction and have natural waterproofing and heat retention qualities.
Exceptionally Soft
Alpaca fibre is typically 5-10x finer than sheep's wool giving it a silky smooth quality.
High Quality - lasts for generations
Alpaca has one of the highest durability factors of all natural fibres. Alpaca can be just as soft as cashmere but has much more tensile strength. A human hair's resilience is rated at 100, wool is 122.8 and mohair is 136. Alpaca, however, is rated at 358.5.
Moisture wicking properties (does not retain moisture)
Wicking and absorbing moisture are two different things.
A wicking fibre will transport moisture away from the body to the outside of the fabric allowing it to evaporate. This is why you may feel "wet" under wool or cotton products but not with Alpaca products due to its low moisture absorbency and great wicking properties.
A light-weight natural insulator
Some of the warmest fibre available to consumers today are made from Alpaca. The unique light-weight and semi-hollow airy construction of the fibre allow it to be warm in winter and cool in summer. 
Each of our duvets has our trademarked "Cloud of Dreams" pattern stitched into the fabric. This pattern was designed exclusively for Pacific Alpacas by Maori artist Patricia Erueti of the Arawan tribe from New Zealand's beautiful bay of plenty region. So each time you buy a Pacific Alpacas duvet you are not only buying a top of the line quality item, you are also buying a piece of new Zealand heritage to keep in your home. 
Looking for bulk product or fleece?
Pacific Alpacas offers an opportunity to buy bulk product, raw, scoured or treated alpaca fleece so that you can apply this amazing material to your own projects.