About Us
New Zealand's Fibre Pool Collection
& 100% Alpaca Products
Pacific Alpacas is the largest alpaca fibre collector in New Zealand. Our mission is to strengthen the market and increase demand for New Zealand Alpaca Fibre, as well as operating a successful fibre pool for growers. Our company prides itself on buying 100% alpaca fibre from over 900 local growers and creating a market for them. Once collected, the fibre is sorted and scoured, from that we produce the highest quality 100% New Zealand Fibre Heirloom duvets and blankets which are sold to both domestic and international buyers.
Whether you are a customer looking to purchase one of our quality items for your home, a product wholesaler, or an alpaca farm supplying our fleece – our promise to you is all about quality and attention to detail.  We want the world to discover the luxury of alpaca products and the benefits the fibre has over other comparable animal fibres such as sheep's wool.
Pacific Alpaca fibre benefits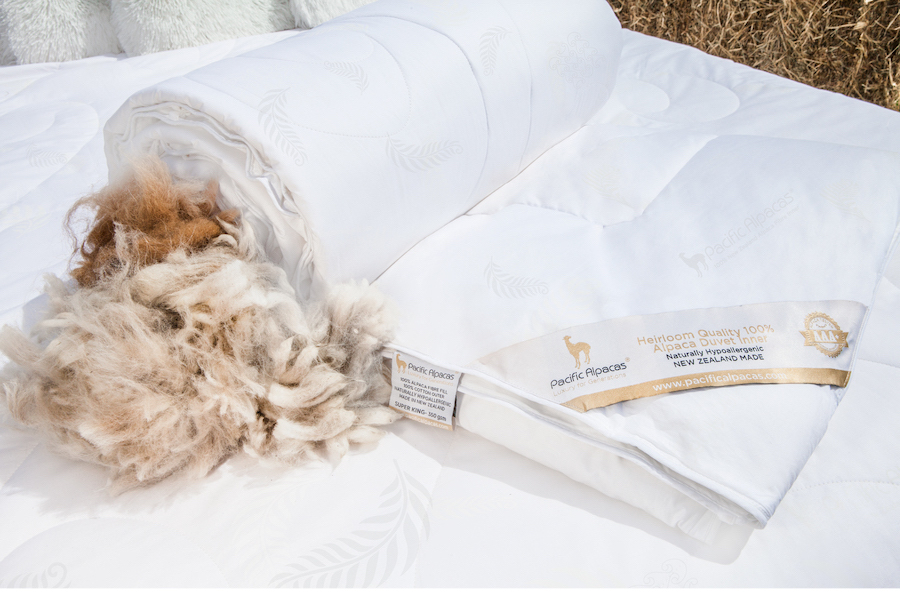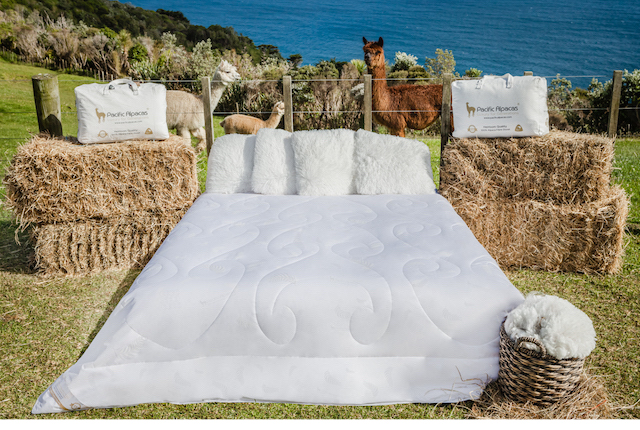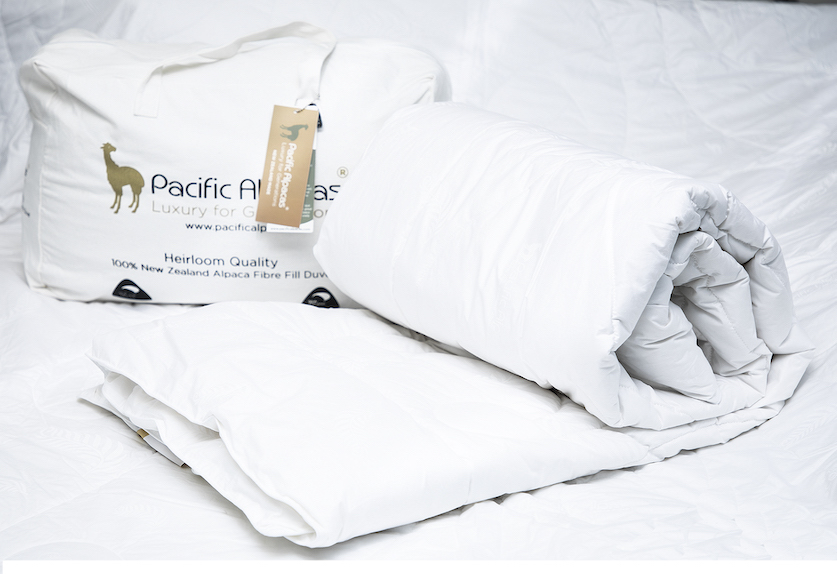 100% New Zealand Alpaca Fibre
Locally sourced from over 900 Alpaca farms and studs around the country which supports 93% of the alpaca fleece production in New Zealand.
Hypoallergenic
Sheep's wool has a naturally occurring oil called lanolin, which some unlucky people have an allergy to. Most wool products are treated chemically to remove the lanolin which in itself can cause allergic reactions. Alpacas don't produce any lanolin at all as the fibres are unique in their construction and have natural waterproofing and heat retention qualities.
Exceptionally Soft
Alpaca fibre is typically 5-10x finer than sheep's wool giving it a silky smooth quality.
High Quality - lasts for generations
Alpaca has one of the highest durability factors of all natural fibres. Alpaca can be just as soft as cashmere but has much more tensile strength. A human hair's resilience is rated at 100, wool is 122.8 and mohair is 136. Alpaca, however, is rated at 358.5.
Moisture wicking properties (does not retain moisture)
Wicking and absorbing moisture are two different things.
A wicking fibre will transport moisture away from the body to the outside of the fabric allowing it to evaporate. This is why you may feel "wet" under wool or cotton products but not with Alpaca products due to its low moisture absorbency and great wicking properties.
A light-weight natural insulator
Some of the warmest fibre available to consumers today are made from Alpaca. The unique light-weight and semi-hollow airy construction of the fibre allow it to be warm in winter and cool in summer. 
Are you an Alpaca Farm?
Learn more about our participating grower programme
and what opportunities you can benefit from for your alpaca fleece.
Looking for bulk product or fleece?
Pacific Alpacas offers an opportunity to buy bulk product, raw, scoured or treated alpaca fleece so that you can apply this amazing material to your own projects.